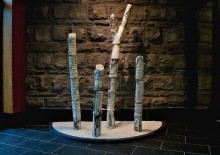 Donors' Forest Unveiled at Beechwood National Cemetery of Canada
Grace Nickel, Assistant Professor in Ceramics at the University of Manitoba's School of Art, attended the unveiling of her commissioned piece at the Beechwood National Cemetery of Canada in Ottawa on September 16, 2010. She was awarded the commission for her submission titled, Donors' Forest, after winning a national competition. She created the commemorative piece for the entranceway to the new Beechwood National Memorial Centre. The 14,000-square foot Memorial Centre was designed by Ottawa's Robertson Martin Architects and was opened at the Beechwood Cemetery by former General Governor Michaëlle Jean with great fanfare in 2008. Beechwood Cemetery is home to the National Military Cemetery, the RCMP National Memorial Cemetery, the Canadian Veterans and War Dead, and has sections devoted to a great diversity of cultural communities.
Devastatus Rememorari
Devastatus Rememorari, Grace Nickel's ceramic memorial to Point Pleasant Park. At the Mary E. Black Gallery, Halifax, Nova Scotia until May 25, 2008.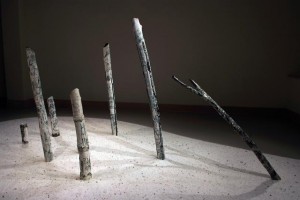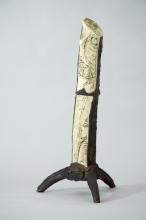 Subconscious City
Grace Nickel is one of 27 artists invited to participate in Subconscious City, a group exhibition that opened at the Winnipeg Art Gallery on February 14, 2008. The curators, Shawna Dempsey and Lorri Millan state, "Subconscious City examines the often hidden underpinnings of Winnipeg – its myths, its vacant lots, its forgotten communities, its hidden gems – and reveals a complicated picture of where we live and work. More than a tourist snapshot or glossy one-great-city image, this contemporary exhibition delves deeply into the nature of our urban social and physical landscape and its power to shape identity. An outstanding roster of 27 local artists, reflecting different media, different stages in their careers, and different points of view, will be featured in this artful expression of civic pride."
Nickel is showing a piece called Uprooted – Winnipeg 2007, which was created in response to her investigations of the perennial flooding that occurs along the Red and Assiniboine Rivers in Winnipeg. Every year, the water creeps up the river bank to alarming levels, leaving a scene of devastation and chaos behind once the waters recede. Trees are uprooted and a clear record of the water's height is indelibly left on the trunks of the trees. Inspired by these markings of memory, Nickel created a ceramic piece called Waterline, shown recently at the Anna Leonowens Gallery in Halifax, Nova Scotia.
Subconscious City will remain on view at the Winnipeg Art Gallery until May 11, 2008.
China Residency
Recently I was one of ten Canadian ceramic artists selected to travel to Xi'an, China, to participate in the Sino-Canada Ceramic Art Exchange Program, a one-month artist's residency at the Fuping Pottery Village. For the month of October we were creating work for the new Canadian Ceramic Museum which is being built for the 2008 Beijing Olympics, along with nine other international ceramic museums. We were all working together in the studio attached to the Futo Tile Factory on the site of the Fuping Pottery Art Village.
The participants were asked to stay to attend the inauguration of the Canadian Ceramic Museum on November 6, 2007, where our work is permanently displayed as the charter collection, created by the first contingent of Canadian artists selected for the FLICAM project. We were encouraged to respond to the physical and cultural environment of China, allowing this encounter in surroundings rich with the history of ceramics to inspire our work. We also toured major ceramic sites in the area, such as the Terracotta Army of the Qin Dynasty, which consists of over 8,000 life-size clay soldiers and horses in Xi'an, and a traditional pottery village called Chenlu, situated in the spectacular mountainous area of Shaan'xi Province.
I kept an online journal during the residency and will continue to post entries on the weblog from time to time. For those of you who left comments, thank you. I invite all who read it to give me their feedback. I would like to thank the Canada Council for the Arts for supporting my participation in this important cultural and artistic exchange. An article titled, "Canadians In China" written by Kristen den Hartog appeared in the Australian magazine Ceramics Technical, No. 27, November 2008 – April 2009, pp 83 to 88.
Grace Nickel was inducted into the Royal Canadian Academy of Arts on June 22, 2007. This honour is bestowed on artists who have made a sustained contribution to the field of the visual arts in Canada, including professional activity on a national and international scale. The work of the twenty new RCA inductees for 2007 is exhibited at the Mayberry Fine Art Gallery in Winnipeg's Exchange District until July 7, 2007.

Ceramics Monthly
Grace Nickel is featured in Ceramics Monthly, January 2007:
"Fire and Light: Grace Nickel's Metaphorical Lamps," by Glen R. Brown
In addition to the pairing of matter and energy,… a vaguer duality has often infiltrated her sculptures. Describing this as an ironic interdependence of the attractive and the repulsive, she attributes to it a curious influence over the creative process….
Monthly Methods: "Letting in the Light: Slumped Glass for Sconces"
Nickel crash-cooled the kiln to about 1292°F (700°C), then allowed it to continue cooling naturally, fixing the glass elements with the desired curvature….
Read the article: cm-article-fire-and-light-jan2007.pdf (272 kB PDF file)

A three-person exhibition called Branching Out took place at the Manitoba Craft Council Gallery in Winnipeg, Manitoba from August 18, 2005 to September 17, 2005. For more information on this exhibition please see Grace Nickel's Artist Statement.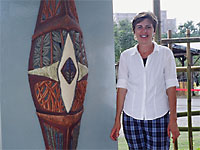 Grace Nickel's report on her residency in Taiwan: September 27 to November 14, 2003.
Nickel's work, Intermediate Terminus #2, selected for 1st Taiwan Ceramic Biennale.
Robert Archambeau: Artist, Teacher, Collector
Grace Nickel was included in the Winnipeg Art Gallery exhibition Robert Archambeau: Artist, Teacher, Collector February to May, 2004.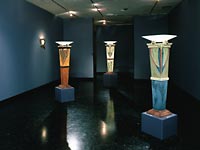 Installation view of A Quiet Passage, an exhibition of light sconces and columns in clay and glass, which took place at the Winnipeg Art Gallery from April 18 to July 22, 2002.
The curatorial essay, written by Helen Delacretaz, appeared in Ceramics Art and Perception. An exhibition catalogue is available from the Winnipeg Art Gallery.
Taiwan Golden Ceramics Award
Grace Nickel won a Judges Special Award in the prestigious Sixth Taiwan Golden Ceramics Awards competition. The piece Column with Bowl #2, was exhibited at the Taipei County Yingge Ceramics Museum, and subsequently purchased for the museum's permanent collection.