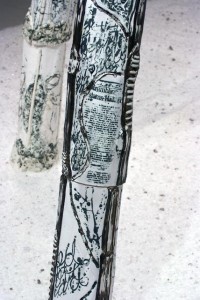 We are extremely fortunate to show the work of Grace Nickel, an internationally respected Winnipeg ceramic artist, here in Halifax.
With sensitivity and perspective beyond many of us who were in Halifax at the time, Grace's exhibition, Devastatus Rememorari, memorializes Point Pleasant Park in the wake of Hurricane Juan, a storm which hit our coast in September 2003. After moving to Halifax in 2006 to pursue her Master of Fine Arts at NSCAD University, Grace began this body of work. Devastatus Rememorari is deeply moving and stunningly beautiful work illuminating the devastation and offering solace and hope.
It is an honour and a pleasure to have worked with Grace and to host her exhibition. It is with profound sincerity that I thank Grace for her insights, wisdom and expertise and for the opportunity to show such meaningful work to our audience.
This publication documenting the installation has been made possible by the generous support of Elizabeth and Darrel Pink in honour of their mothers, Anne Mullaly and Ruth Pink.