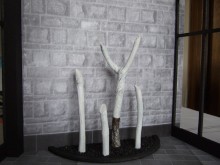 I've been awarded a commission to create the donors' recognition work for the Beechwood National Memorial Centre, in Beechwood National Cemetery, Ottawa.
The work, entitled Donors' Forest, will be a permanent installation consisting of four porcelain commemorative trees. The central piece is the Forked Tree, standing about 210 cm tall, constructed in six sections.
Above is a photograph of the 1:10 scale maquette, part of my proposal, showing the general arrangement of the installation. Below, the six sections of the Forked Tree, still unglazed and unfired. Look for more in-progress photos in the future.