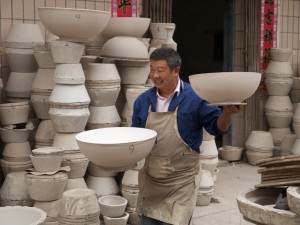 The past week and a half in Jingdezhen has included some productive studio time, but also more tours of different areas and factories in the city. It's very hard to describe this place. You really have to see it to believe it. Imagine everyone in Winnipeg and the surrounding area making pots, miles and miles and miles of them, and everywhere you turn there's a studio or factory tucked into whatever small space is available. The notion we have of "factory" is often not the case here at all. A tiny family-run business will be called a factory with the studio upfront and living quarters in the back. There are hundreds and hundreds of them.
In addition to tours, I took my first model, made by stretching fabric on a wooden frame, to a master mould-maker. I also took a qing hua workshop with a master painter, Hung Fei. Qing hua is the traditional blue-and-white painting that Jingdezhen is famous for. I've developed a whole new appreciation for the subtleties involved in this art form. So much of the mass-produced ware is still hand-painted – meticulously! I'm impressed by the care taken and the expertise of the artisans, all highly skilled in their particular trade.
The weather is beautiful and my work is developing. My husband Michael continues to take many photos, including these. More to come later.