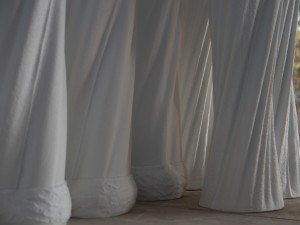 It's been busy! We left Jingdezhen on November 16 and travelled to Seoul, South Korea, via Shanghai. Before leaving Jingdezhen, we filled a large crate with plaster moulds and ceramics – attached you'll see examples of some of the fired work that went into the one-cubic-metre box, which is currently on its way on a slow boat from China. In the spirit of Jingdezhen, we had custom-made decals applied to large tiles and low-fired the day before we left. The tiles came out of the kiln at 10:00 a.m. the day we left. One of them went directly into the PVD chamber (which you can see in the attached images), was out at noon, then packed in the crate, which was picked up at 3:00 p.m. That's the pace!
In Shanghai, we spent hours in the Shanghai Museum, viewing its excellent ceramic collection. We saw a special show of Yuan Dynasty blue-and-white porcelain, and a beautiful Fabergé exhibition. We also walked the Bund, which consists of a strip of stunning architecture – old colonial versus space-age new!
In Korea, my former student Jin Kim was our gracious guide and translator. In Seoul we visited many contemporary galleries, including Yido Gallery, Arario Gallery, Lee Hwaik Gallery, and Gallery Hyundai, with a spell-binding show by Korean artist Choe U-Ram. We stayed in a fabulous area called Insadong. On November 21, I lectured at Namseoul University, which offers a major in architectural ceramics. Thursday we spent several hours in Dongdeamoon in the famous textile market, where I purchased some traditional Korean materials and some not so traditional fabric for further research. On Friday, November 23, I presented a lecture at the Clayarch Gimhae Museum, located in the southern part of South Korea. Clayarch (pronounced clay ark) is dedicated solely to showing contemporary architectural ceramics, and runs an international artist residency program. Joohee Jeon, a chief curator at Clayarch, hosted us and invited us to stay in the museum's guesthouse. On Saturday she took us to see the Busan Biennale, after treating us to a delicious traditional Korean lunch.
Now we're back home in wintery Winnipeg. What an incredible journey it's been!