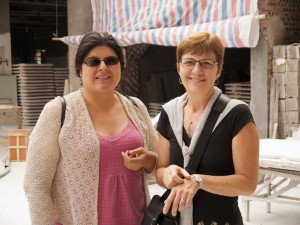 I would be remiss if I didn't mention the honour and thrill of having our first-ever MFA candidate in Ceramics at the University of Manitoba graduate in October of 2012. Monica Martinez was my first grad student and I was her MFA advisor from 2010 to 2012.
Monica was in Jingdezhen at the same time I was, participating in a one-month residency at the Pottery Workshop. We celebrated her official graduation on October 17, 2012 with the other artists-in-residence and the gracious staff of PWS. There were some heartfelt speeches and a cake (with tomatoes on top!), and of course a round of firecrackers went off to mark the occasion. Congratulations Monica!
I am happy to report that Monica is now teaching as a sessional instructor in Ceramics at the University of Manitoba.