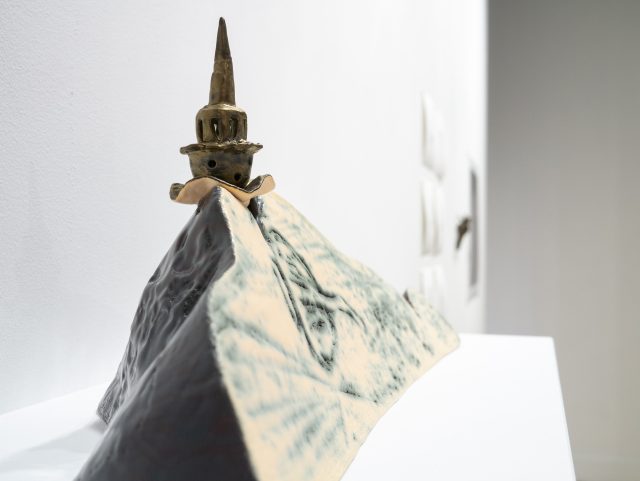 Grace Nickel and Michael Zajac are among the recipients of the Manitoba Craft Council's Judith Ryan Award 2020 for their collaborative works in Lens Reflex, a juried exhibition exploring the intersection between fine craft and photography. The exhibition ran at the C2 Centre for Craft in Winnipeg's Exchange District from July 3 to August 29, 2020. Lens Reflex was the result of a partnership between the Manitoba Craft Council and the Flash Photographic Festival in Winnipeg. This year the Judith Ryan Award was split among the artists in Lens Reflex and included University of Manitoba School of Art MFA candidate Janine-Annette Littman. Congratulations to all of the artists!
Artists' Statement
Grace Nickel and Michael Zajac
In these collaborations, Grace Nickel and Michael Zajac combined traditional materials and methods with new technologies, creating an evolving and reiterative language. Grace Nickel makes clay works, Michael Zajac reinterprets them by digital means, and collaborative decisions lead to new permutations. For example, Grace Nickel's large, columnar forms have their surface captured using peripheral photography and are rolled out as images on ceramic decals. The process becomes circular as these decals are then applied to new ceramic forms, as on the bases of Eruptions No. 7 and 8, and the surfaces of these three-dimensional objects are photographically espaliered, resulting in yet another set of new images. In another collaboration, Michael used digital photogrammetry to capture the detailed three-dimensional forms of the ceramic plumes from Grace's Eruptions series to create ethereal images, Plume Array and Erbium Plume, and also 3D-print interpretations of the clay forms in bronze.
The digitally derived images and objects provide foils for the earthbound quality of the clay forms and their fired permanence and vulnerability. What would have been difficult or even impossible to accomplish with clay becomes doable through digital means, as seen in Bronze Plume No. 1. The jointly created works that meld traditional with emerging technologies lead to variety, contrast, and the reimagining of idea and form, and set up an ongoing dialogue of diversity and unity between the collective works and the collaborators.
Permutations 1
Grace Nickel and Michael Zajac
Eruption No. 7 and No. 8, 2019
Porcelain with rare earth oxides, stains, terra sigillata, glaze, and ceramic decals made from digital peripheral photographs
Grace Nickel and Michael Zajac
Plume Array, 2019
Inkjet prints
Permutations 2
Grace Nickel and Michael Zajac
Bronze Plume No. 1, 2019
3D-printed steel and bronze
Grace Nickel and Michael Zajac
Erbium Plume, 2019
Inkjet print