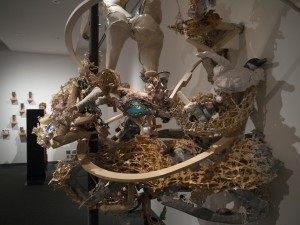 A whirlwind trip to Toronto for the Thanksgiving weekend brought intensive art viewing opportunities (and some excellent dining experiences as well!).
It began with a day trip to Burlington and Waterloo. First we stopped at the Burlington Art Centre, where I saw the Hot Mud exhibition (emerging Canadian ceramic artists) and had an impromptu visit with BAC curator Jonathon Smith. Then it was off to the Canadian Clay and Glass Gallery to meet with curator Christian Bernard-Singer to discuss my upcoming solo show there. While there, I also saw the new exhibition he curated, called War: Light Within/After the Darkness. I found the works by Laura Donefer, Mary McKenzie, Chari Cohen, and Mary Poplawski especially moving.
In Toronto I had the pleasure of seeing the RBC Emerging Artist People's Choice Award exhibition at the Gardiner Museum. I had nominated Monica Martinez, a recent graduate of the U of M's MFA program in ceramics, for this prestigious award – a $10,000 prize awarded by popular vote. I also saw the BMO 1st Art exhibition at the Museum of Modern Canadian Contemporary Art (MOCCA), where my student Erika Dueck, who graduated from the U of M in June 2013, won the national prize, and another 2013 grad from the U of M's School of Art, Hillary Smith, won the provincial prize for Manitoba for her beautiful ceramic installation. Two excellent exhibitions. Congratulations to all!
And of course I couldn't miss the Ai Wei Wei show at the AGO – beautifully moving! And also the David Bowie show at the AGO – fascinating, especially if you're a big fan. Then it was off to see Ed Burtynsky's exhibition of large-scale photographs at the Nicholas Metivier Gallery. And believe it or not, also squeezed in the Mesopatamian exhibition at the ROM on Sunday. The marathon weekend of visits to galleries and museums, and visits with curators, concluded with a Thanksgiving feast at a cool, wonderful restaurant called Parts and Labour – a designer-owned and designed bistro-style eatery on Queen St. W.