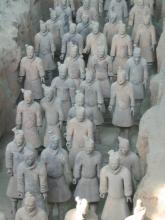 Another week has flown by as we have continued to work in the studio, but have also taken time out to do some short site-seeing trips. The first was to Xi'an to see the famous Terra Cotta Warriors of the Qin Dynasty. It was incredible! Then we went to the Shaanxi Historical Museum in Xi'an, where the whole history of Shaanxi Province was told through the development of vessel making in ceramics and bronze. Fabulous! Our second day away from the factory took us up into the mountains to a pottery village called Chenlu, famous for its celadon ceramics and its black and white ware. The landscape in the mountains was spectacular and we soon forgot about the dubious air quality we had left behind in Fuping. It's only the populated areas that are heavily polluted — makes sense of course, but it was great to breathe some fresh, clean air for a day.
Then, last weekend, four of us had the chance to travel to Jingdezhen, the porcelain capital of the world. In Jingdezhen, everything is centred around ceramics — all the lamp posts are made of porcelain, there are shops selling only kiln shelves, shops selling only glazes, shops selling only ceramic decals, and there are numerous ceramic markets to visit, with row upon row of antique and new pottery for sale. Needless to say, I had to do a bit of shopping. There was a large ceramic festival on when we were there and this involved all sorts of special exhibitions, celebrations, ceremonies, dinners, breakfasts, speeches, and more.
We all hopped on a bus to go to Kaolin Mountain one day (kaolin is the main ingredient of porcelain), and we were greeted with drums and cymbals at a small mountain village where the future home of the World Ceramic Centre lies. This is an ambitious project envisioned by Jackson Li, founder of the Sanbao Artist Residency, located in the mountains outside Jingdezhen — a beautifully rustic facility with studios, guest rooms, a gallery, a restaurant (with an excellent cook!), and a shop where artists can go to work for extended periods of time. We also visited the Pottery Workshop situated in a sculpture factory in Jingdezhen. This facility was recently established by Caroline Cheng, who owns other workshops and galleries in Hong Kong, Shanghai, and Beijing. This is a beautiful facility with studios, rooms, a gallery, a production studio, and two coffee shops!
It was wonderful to get out to see some of what China has to offer. It is a fascinating country and each province and each city has its own long history, often told through its ceramics. Each place comes with its own special traditions, food and customs to discover. But now we're all back hard at work at the factory as we careen toward the deadline, which is now nearly upon us. The Canadian Museum is scheduled to open on November 6th.
Until later,
Grace